What is Bluestacks Android Emulator?
An Android emulator is an app that helps you to run Android apps on your PC. Bluestacks is one of the most popular freeware emulators, and it runs on both Windows OS and iOS. It is especially popular among gamers because of its excellent gaming properties. If at any time, you lack an android device but you are so attached to your android apps then you can still enjoy them on your PC using the Bluestacks emulator. Some people use Bluestacks for the pleasure of a bigger screen and the fact that given a PC with the "adequate resources," it provides better app performance than many Android devices.
"Adequate resources" means that your PC must have at least 2GB RAM, 5GB hard disk space, and a GPU with Direct X 9.0 or higher capabilities to run Bluestacks. NB: these are just the minimum requirements. To ensure Bluestacks runs smoothly, recommended PC specs are 4GB RAM and core i3 processor or its equivalent. It is also recommended that you close all other windows when running Bluestacks to prevent lagging or freezing.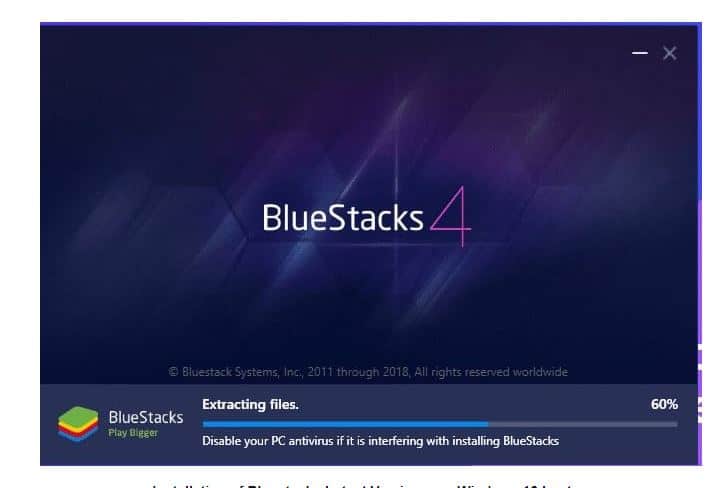 Bluestacks App Player Features
Since its creation in 2011, Bluestacks has released a few versions. The latest version of Bluestacks (Bluestacks v4) was released on the 18th of September 2018.
The Bluestacks v4 comes with resource management. This adjusts the performance of your PC by throwing more resources at Bluestacks while it is running; hence, it runs more seamlessly than the previous versions. This version is faster than many mobile phones.
Bluestacks features Android 4.4 (KitKat), so the interface might look a bit old-fashioned, but the performance is better than that of Android devices that featured KitKat, so it still gets around.
Bluestacks tends to clash with some antivirus software, the BitDefender for example, so you might have to disable your antivirus software. Also, Bluestacks requires administrator access.
You can copy any files from your computer to Bluestacks. This way, you can install apps on Bluestacks with their APK files instead of downloading and installing them from the play store.
Bluestacks allows you to capture images and videos if your computer has a webcam. There is also an in-built media player for playing audio and video files.
Bluestacks supports multi-touch for users with touch-screen laptops or tablets, and it also supports sensors integration for stuff like tilting or shaking moves while gaming.
Bluestacks also have a shared folder that allows you to transfer files between Windows and Bluestacks.
If you don't like using bluestacks then you can try any one of the other emulators.
Simply put, Bluestacks was created with gamers mostly in mind, and most of its attributes are game-oriented. Bluestacks has a very intense ad campaign which can be a bit overwhelming at times especially if you are not very interested in sports because most of these ads are usually games.
It is quite easy and straightforward to install Bluestacks on your PC. It sometimes comes in a zipped format, so you might have to extract the installer before running it. It takes a few minutes before the installation completes and even longer for the app to initialize for the first launch.
After installing the Bluestacks app, you can proceed to log in to your Google account and get any apps you need from the Play store. It is illustrated here how to go about using Snapchat as an example.
From the Bluestacks home screen, you open Playstore (after you log in your Google account).
Your search for Snapchat and click 'INSTALL.'
After installing, your app is ready for use. The same process you've always known, right? The same way every other process in Bluestacks works – you already know.
As an alternative method, you can also install apps on Bluestacks if you can get the APK file on your PC, you can then open the APK file with Bluestacks' 'APK handler' to install it on the Bluestacks app. The app then appears on the home screen of Bluestacks.
Please be reminded that Bluestacks' performance largely depends on your PC's spec.