Just recently, I upgraded to a Microsoft Windows 10 OS. The update was significant, the features were exciting, but Windows 10 audio was not working.  Usually, I play a lot of Jazz on my Windows Media player as I work. Therefore, I decided to check online for remedies.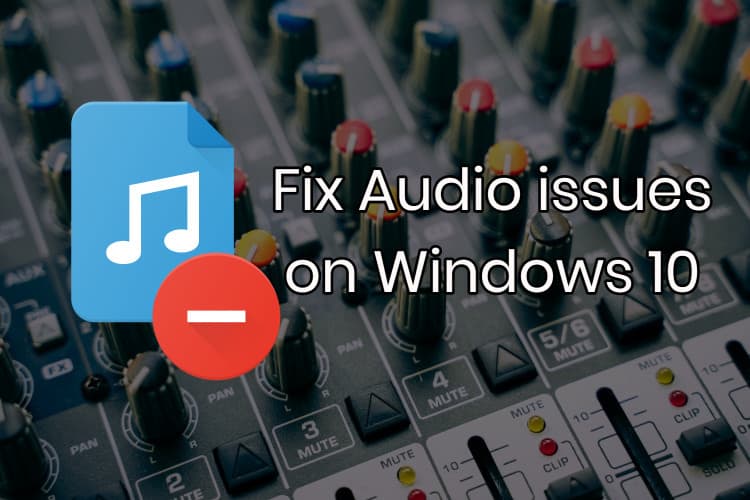 I learned that the solutions were countless. Here, you will find some of those steps to apply to fix Windows 10 audio not working and kill the silence in the room.
We will start by troubleshooting audio. Stay with me as I take you through how to do it.
1. Troubleshooting Audio
The best part about Windows 10 is that it comes with a full audio troubleshooter. This feature scans your PC for any sound system issues.
Troubleshooting your audio is pretty simple. This solution should be your first option. So how do we go about it?
Go to Start and type troubleshooting on the search box o
Click on troubleshooting on the search results.
Go to Hardware and Sound and select Troubleshoot audio playback.

Then click Run the Troubleshooter.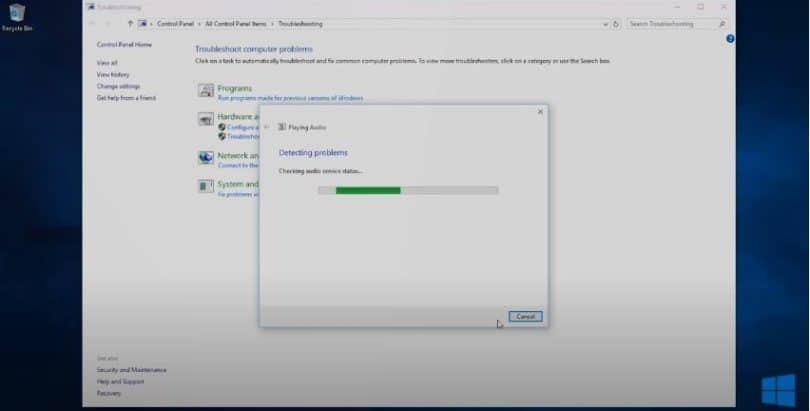 Apply any of the recommendations given.
Pretty simple. In case this does not work, do not panic. There is more you can still do. One is to update your audio drivers.
2. Updating Audio Drivers
One of the common reasons something on PC may not work could be the driver is out of date. The same is also the case for Windows 10 audio.
The solution for your audio is-updating sound card drivers. So how do we do this?
Open the Start menu and type to search for Device Manager. Click on it.
Under Device Manager, you will see several icons. 
Select Sound, voice, and game controllers (In case you have a sound card, it will be one of the icons)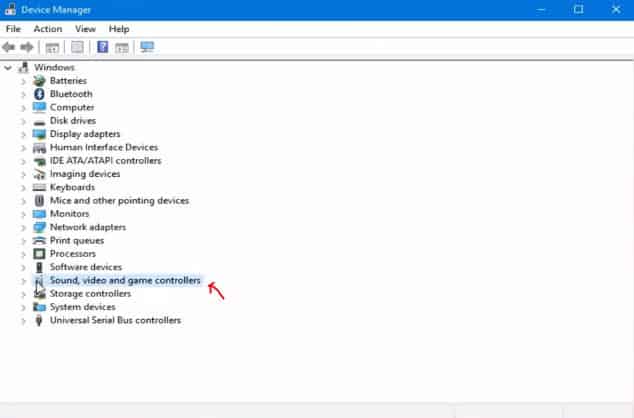 Double-click the sound card, and navigate to Driver tab
Click on Update Driver
An automatic Windows search will start. Available driver updates will be found and downloaded.
Once update concludes, restart your PC
Check whether audio works
The audio should be back on. Usually, Windows locates the right drivers by itself. If the audio driver does find an update, visit the sound card manufacturer's website. Look up the sound card and find out how you can download the update.
In case your update does not work, open Device Manager. Locate the sound card and right-click it.
Click Uninstall. (This removes your driver)- Do not worry. Simple Restart your PC.
Windows will reinstall the driver. The Sound should be back on. If it does not worry not…there is still more we can do to solve that.
If this does not work, you may need a high definition audio device driver. I will show you in the section below. Before, let's check your output devices.
3. Checking Output Devices
Sometimes we forget to unplug out output devices from our PCs. It could be that a headphone has been playing music all along.
The solution is to check the output ports for any connections to output devices. Sometimes it could be that Windows audio is connected to a Bluetooth switched off at the moment.
If this is the case, then you need to check your PC manually. Let's do this together.
Right-click on the arrow on the right bottom of your screen next to the clock on the taskbar
Select Open Sound Settings (A settings menu opens)
Navigate to Choose your output device menu and click the drop-down (Here select your preferred output device)
Pro Tip: As you choose the device, ensure that your volume is not at zero.
4. Using an HD Audio Device Driver
Updating your sound card device driver may not work. Using a high definition audio device driver may have a more significant effect. So how do we apply this trick?
Go to the search button on your taskbar, search device manager.
Go to your Sound, video, and game controllers. Click on it.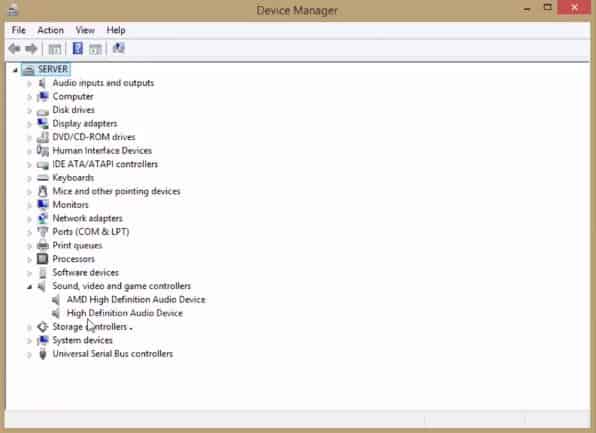 Right-click on the driver and select Update Driver
Here, do not let Windows search for the driver automatically.
Choose the option. Browse my computer for driver software.
Then click on the Let me pick from a list of device drivers on my computer ( A list will show up)
Choose High Definition Audio Device (This driver is the Generic Windows 10 device driver)
Click on the driver and select Next.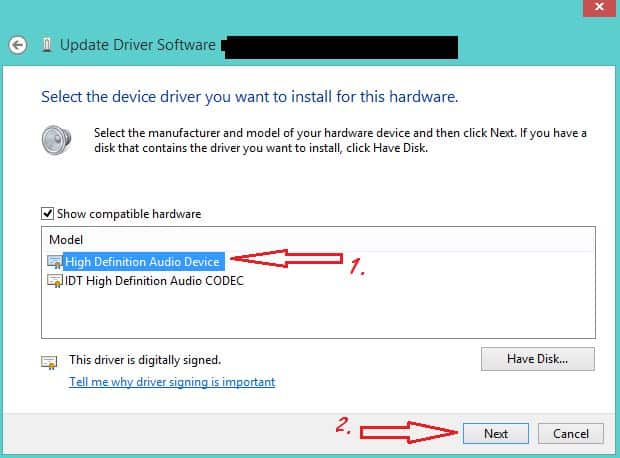 Now, check to see whether your Windows 10 audio works. This may work correctly. However, if it does not, do not be wary.
Another alternative is to set the default playback device.
5. Setting Default Playback Device
Occasionally, your Windows could update some things automatically. Nevertheless, as you connect a USB device or HDMI, the audio may not work.
The solution is that you need to set these external devices as default for them to work.
Here is how.
Click on the search icon at the bottom and search Sound.
Navigate to Playback. Click on it.
Choose a device of your choice. Set as default. (The audio should work properly)
If the audio issue persists, you are still not out of options. It could be a problem caused by your audio enhancements.
A simple solution like disabling your audio enhancement could help a lot.
6. Disabling Audio Enhancements
Windows 10 offers an exciting audio experience. The main reason being its audio enhancements. Occasionally, the improvements interfere with your Windows 10 audio functionality.
The simple approach is to disable the audio enhancements.
Let's do this.
Go to Start, search Sound
Select Sound panel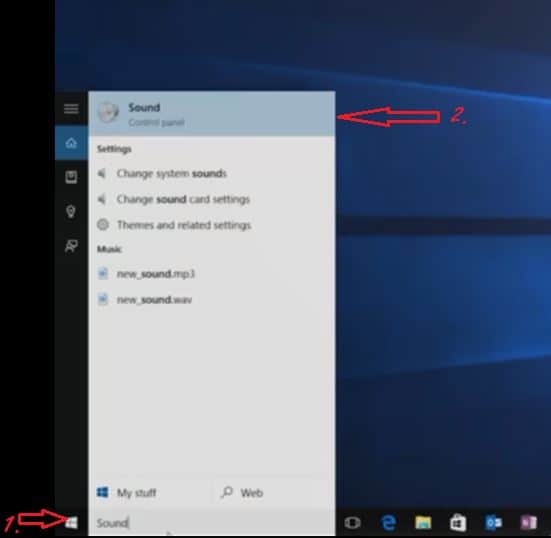 Click on your default Audio Device (On Sound Tab)
Click on Properties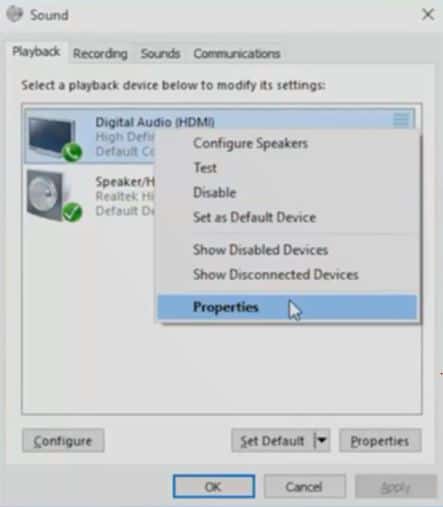 Note: A popup window opens known as default device properties.
Navigate to the Enhancements tab. Check the Disable all enhancements box.
Conclude by pressing Apply. Then, click, OK.
By now, your audio should be solved. If not, maybe this time, you need to change the audio format.
Use steps 1, 2, 3, and 4 above. However, this time, navigate to the Advanced tab just after the Enhancements Tab(step 5).
Bonus Tip: Choose 16-bit or 24-bit audio quality. (These are the most compatible audio formats for most speakers.)
Any of these solutions can quickly solve your Windows 10 audio issue.
Conclusion
Sometimes a Windows 10 audio issue can be due to a simple setting. Or because of an automatic update with your PC. Take your time to evaluate what causes problems for your audio. Above, we have gone through most of those remedies. Any could work for you. All the best!